If you are serious about making diffrent sizes of earrings this is what u need to get.
The bottom half is a semi soft silicone which forces the cloth tight around the button, then forms a lip which naturally curls the material towards the center. A quick press round of the material, then line the slot in the base up with the eye that goes through it and press down with the black back piece. The back piece is shaped to fit the grooved ring in the base and keep it inline. A firm push and you hear or feel the two halves click together. A perfect covered button everytime.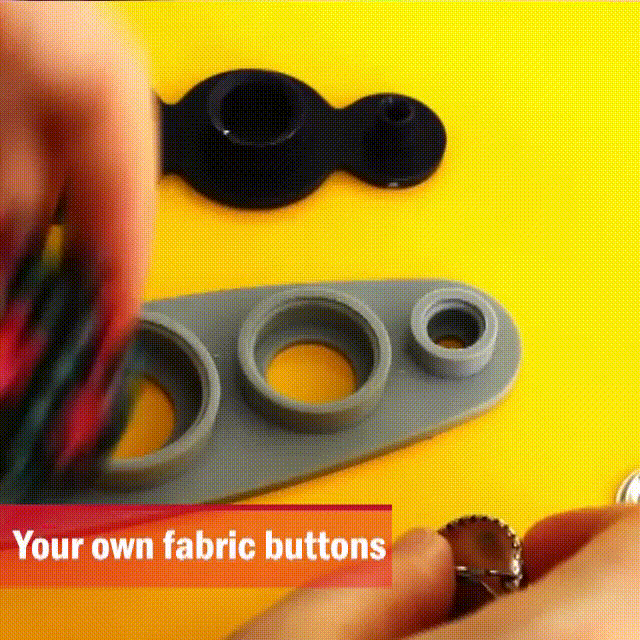 STURDY FABRIC BUTTON MAKING TOOL - This tool enables you to DIY your own fabric buttons of different styles and patterns. It is sturdy and the fabric buttons made from this tool is durable and stable.
WIDELY WELCOMED BY TAILORS - It has been widly used in sewing, clothes designing, domestic mending, etc.. Especially in high grade garment customization, this tool has played an important role.

FABRIC BUTTON SIZE

- The fabric button size range from 11mm to 29mm, suitable for use with cover buttons of the following sizes: 11mm, 15mm, 19mm, 22mm and 29mm.
Finished product display:
HOW TO USE:
1. Place the buckle of a appropriate size and the cloth up and down in the corresponding size position
2. All the fabric is stuck into the position of the buckle
3. Put another buckle into the buckle tool and prepare to cover the other end of the buckle tool.
4. When it is opened, the buckle will be fastly ended tightly, and the button will come out easily.
SPECIFICATIONS:
Material: ABS+metal
Weight: 50g
Color: grey, black
Size: As shown below