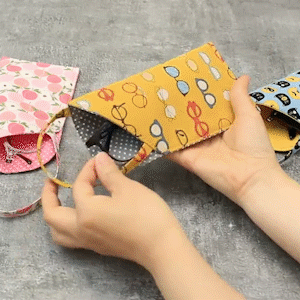 Often forget your glasses? Eyeglass case is too heavy and too big to carry? We can help you solve all of them! Not only can you put your glasses but also your phone, this is a multifunctional bag.
Have you ever put your glasses aside, when you need to use them but can not find them, or they are accidentally bumped and dropped on the ground?
This cute glasses bag can not only hang on the bag, but also hang in the car, so that you can easily access our glasses, no longer have to worry about glasses lost or scratched pull.
Eyeglasses are a necessity in most people's lives, but eyeglass cases are very heavy and inconvenient to carry. Therefore, people do not often use eyeglass cases, but in such cases, glasses can be easily damaged or scratched.
This time, we designed a lovely glasses pouch for your beloved glasses! Easy to solve your glasses storage problem, but also can play a good role in protection.Of course, do not just take as glasses bag, it can also be loaded with cell phones.
As a cell phone protective cover, to prevent the loss of cell phones or broken, thick cotton can be a good protection for cell phones, to your family and friends also make a cute phone bag, it can be infinitely recyclable, but also very environmentally friendly.
Specification:

Material: Acrylic
Size: 8in
Package List:
Simple Glasses Bag Templates + Manuals
Our Guarantee

We truly believe wemake some of the most innovative products in the world, and we want to make sure we back that up with arisk-free ironclad 180 day guarantee.