Backpacks are expensive? Do it yourself a cool backpack! With a tutorial, new products on the shelves,We have 3 sizes, adults and children are suitable.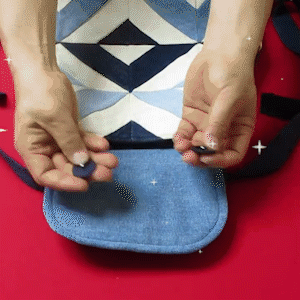 Old clothes don't need to be thrown away anymore! you just need to cut them up and put them back together again to turn them into another useful item. All you need is this template!

That is a great looking patchwork backpack. It is
washable, repairable, roomy, stong, fully lined,
and beautiful. You'll love the fabric and colors you used in this backpack. It has strong straps, a zippered pocket inside, and a large snap on the cover.
A variety of
different sizes
can make different sizes of backpacks, you can carry a cute backpack
with your children
when you go on a picnic or walk.
Very
creative design,
denim color matching very well, the patchwork pattern looks like a beautiful tile floor, as well as the patchwork diamond array, forming a beautiful whole.
Specification:

Material: Polyvinyl chloride

Size: Small-8inch, Medium-12inch, Large-15inch


Package List

Diamond Patchwork Backpack Template+Manual