ADJUSTABLE BIAS BINDER FOOT - YOUR RELIABLE PARTNER FOR PLAIN SAILING BIAS BINDING!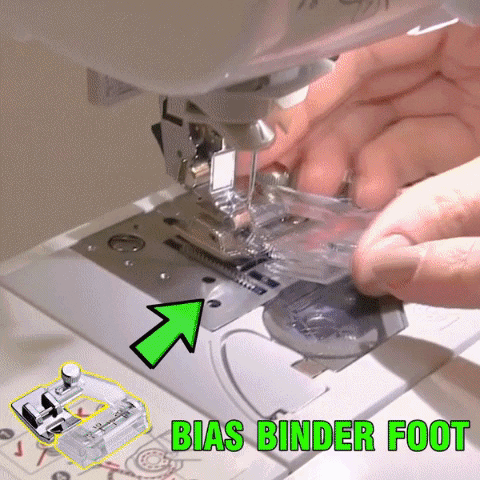 Using this tool is a quick, clean, and easy way to achieve an ELEGANT FINISH on simple craft projects. It allows perfect sewing of the clothing strip wrapping edge with the same sewing effect on both sides. Just feed the fabric into the binding foot and it will instantly hold and align the edges perfectly. 
The two upper screws on the binding allow you to adjust the fold of the fabric and set them at the same length for a straight stitch or set the bottom a bit further than the topper for a blanket stitch. Made of alloy and plastic material that is resistant to rust and durable. This foot is generic, will fit Brother, Babylock, Singer, and many more machines.
FEATURES:
Clear Design for Great Visibility: Built using transparent plastic so you can conveniently see the fabric while sewing. 
Adjustable Setting Screw: A. Align the needle to the left side of the tape bias foot scale. B. Adjust the unilateral width of cloth strip, ranging from 5 mm to 20 mm.
Easy Snap-On Installation: With its short foot snap system, you can easily snap it onto the machine bracket without the need for a screwdriver. 
Universal Fit: 

Fits low shank snap-on sewing machine

 including Brother, Singer, Euro-Pro, Babylock, and more.
High-Quality Material: Made of durable metal and hard plastic that can endure heavy use and is built to last long.  
How To Use:
Fold the edges of the fabric.
Position and insert into the guide groove. Adjust the width as needed.
Snap the tape bias foot on the presser foot adapter.
Enclose the edge of the fabric and adjust the starting point of the needle near the left.
Start sewing. 
PACKAGE INCLUDED: